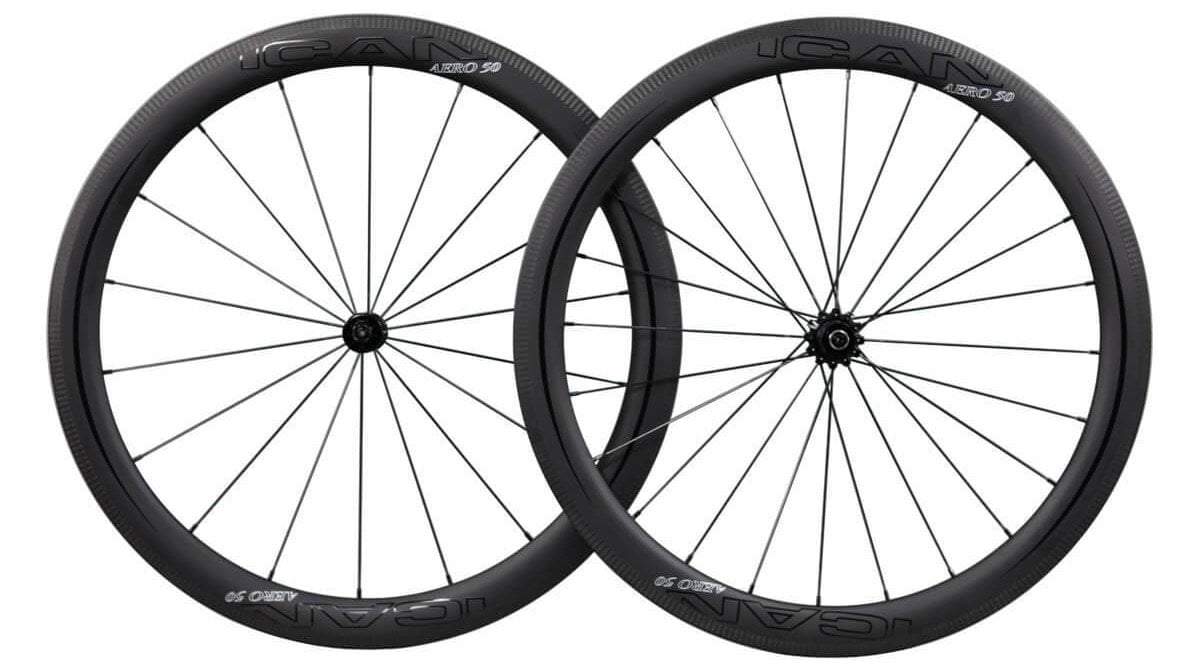 For 2019 we are launching a new carbon fiber ICAN wheelset. Our new range is called Aero, that might give you a small clue as to what our road bike wheels are. We have aimed to make the best, most affordable carbon fiber aero road bike wheels that you can spend your hard earned cash on.
We haven't messed about with our new Aero range. We took our highly popular FL wheelset series as the base for the new Aero range. We wanted our new wheelsets to be able to compete against one of the biggest names in cycling. We aimed at making our Aero range better value than Mavic.
ICAN: The New Carbon Fiber Wheel Kings
Mavic may have been around for over 125 years, but we feel we have enough experience to play with the big boys. Our Aero range has been designed around bringing you better value, aero efficiency, and lighter weight than similar offerings.
We have taken all that we have learned from our FL series and pushed our engineers, making sure that the quality of our product stands up against the quality of Mavic. That is why we knew we needed to keep the strength of our FL wheelsets even when we wanted to put them on a diet.
Our FL series of wheels are constructed using high-end Toray T700 carbon fiber. We experimented with T700 and realized we had already built as strong and light a wheel as was possible with this fiber. We wanted wheels that will last, that we can offer you a two-year warranty on, similar to that found on Mavic Cosmic Pro Carbon UST.
We then went back to Toray and discussed our project. In the end, we settled on building our new range using a mix of Toray T700 and T800 carbon fiber. This allowed us to build a wheelset that was now a 100g lighter than the previous FL range, all the while keeping the wheelset super stiff.
The New Aero 40 Wheelset
If you look at our Aero range, our Aero 40 is our most similar wheel to the Mavic Cosmic Pro Carbon UST. The great news is that our wheelset comes in at 1357g and the Mavic's weigh in at 1650g. A massive saving for our wheelset over the wheels we are competing against for your money.
If you want to set a new PB, beat a KOM, or just your friends in a speed sign sprint then the lighter weight of our wheels will help you accelerate. Your faster acceleration will mean you have already left everyone for dead and will just be cruising towards better times. You can train harder, but you can also train smarter. Our wheels help you train smarter by requiring less power and effort to get them rolling, a significant advantage to have.
We also want you to be comfortable on our wheels and so like Mavic we designed our rim hook to allow tubeless easily. We want you to be able to benefit from the slight cushioning effects of a lower pressure tubeless tire, and we want you to enjoy the benefits of extra grip and lower rolling resistance.
Tubeless Wheels Are The Future
While allowing you to go tubeless, we have also decided that one of the best ways to do this is also to allow wider tires. Both our rim and Mavics will allow the use of wider tires. Given that science has started to show that low-pressure 25mm wide tires will be faster than high-pressure 23mm tires, we can now all benefit from speed and comfort. Two ideas that used to be considered contrary to each other.
Both ourselves and Mavic use this width to create a more aerodynamic wheel. The idea of fatter being slower is starting to come to an end now that we can have science guide us to the perfect aero shape. Both of wheels use a bluntly shaped rim to help stop air becoming turbulent and slowing you down. We all want you to be faster.
Braking Is Important
While we were working on our rim and tubeless tech we decided to improve our brake track's heat tolerance. Our FL rims could withstand 240° of heat build-up, our new Aero rims can withstand 300°. Mavic announced in 2018 that they found creating brake tracks that can withstand 200° to be too time-consuming and expensive.
Our engineers also decided to look at our hubs and re-engineer them for our new Aero series. Like the Mavics our hubs are precision sealed units. Like the front hub on the Mavic Cosmic Pro Carbons our front wheel only has 18 spokes. In its old guise, it used to have 20, but we lost two to help reduce weight. While reducing this weight, we have also managed to keep the wheels just as stiff. Our rear wheel though has four more spokes than the Mavics, to make sure you lose no power thanks to flex as you throw the gauntlet down.
The Most Affordable Carbon Wheelset
We have saved the best comparison between our wheelset and Mavics till last. Our carbon fiber 40mm deep wheelset is about a third of the cost of Mavics. That means you could buy three wheels in our Aero range. You could also get our lightweight hill climbing wheelset the Aero 35 or time trial/triathlon wheelset the Aero 86. For the price of one set of Mavic Cosmic Pro Carbon wheels, you turn your bike into three different bikes.
You might now be wondering how do we keep the cost so low? The primary way is that we sell directly to you from our own factory. We make the wheels, and then we ship them to you. By doing so, we are cutting out all the people who need to make a profit before the wheels reach you.
The other way we save you money is that you do not see us sponsoring the neutral vehicles in Le Tour de France. If we were to do so, we would have to increase the prices of our whole range just to cover one event. Now imagine we did this in races all over the world. By not marketing ourselves in that way, we do not need to have a huge mark up to cover the costs of these events. You can then get high quality but without huge expense.
Our Aero wheel range will be huge for 2019. Every year we build on the previous year's successes and make sure that our wheel ranges are always moving forward and doing so pretty fast. Come and try a set and we're sure you will be in love with your new Aero wheels.
Jan 17, 2019

Category:

Wheels
Comments: 0