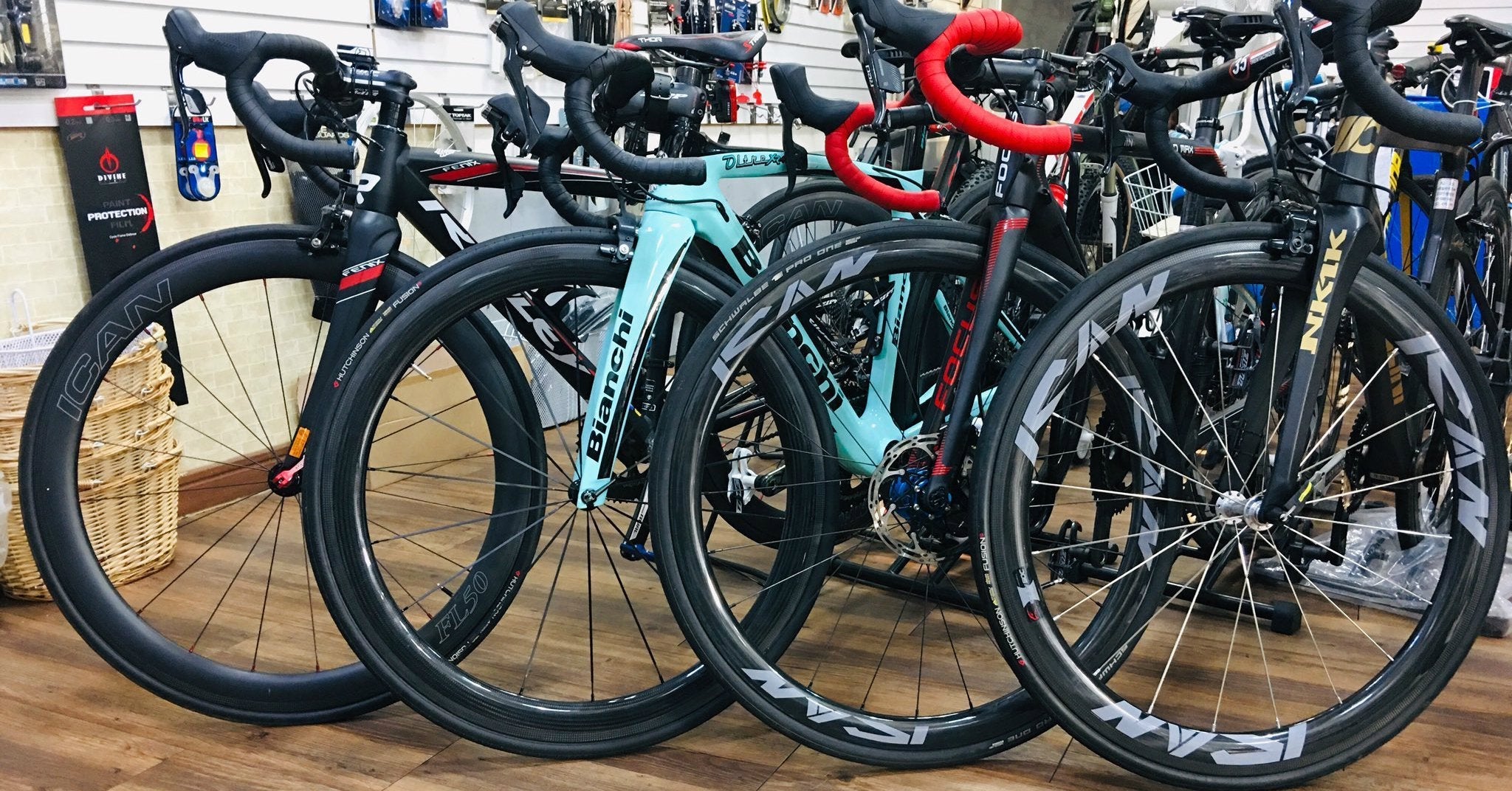 Wheels, you are always told they are the first upgrade you should make. The problem is knowing which wheels are the ones you need, which ones will suit the way you ride, and which ones might be a waste of money for you.
That is why we have created a helpful little guide here for you. You'll see that we have broken wheels down into riding styles. We then offer you an affordable choice and a slightly more bling choice. The great thing is that even our bling wheels are affordable when compared to other manufacturer's prices.
You might be wondering how we can possibly be cheaper and have high-quality? The answer is a simple one. We sell direct to you. We take wheels directly from our factory floor and drop them off at your front door. There are no middlemen all trying to make their own profit.
Now, on to our wheel guide.
Triathlon and Time Trial Wheels
If you are racing the race of truth or a triathlon, you want fast and deep wheels. Decimals of a second can be the difference between victory and failure. With no one to draft it is all down to you and your equipment. The faster your wheels, the more likely you are to win.
Rear Disc Wheel
If you ask anyone what is the fastest rear wheel for a triathlon or a time trial, they will all tell you that you need a rear disc wheel. That is why we created our Triathlon Rear Disc Wheel, it is quite simply fast.
You can get our Toray T700 carbon fiber disc wheel in two different versions. Firstly, we offer it in a clincher tire version. Secondly, we offer it in a tubular tire version, great if you like gluing your tires on or if you want to save as much weight as possible. Both version though will be like attaching a rocket to your bike.
Affordable Triathlon and Time Trial Wheels
For 2019 we launched a new rim shape, and we called the wheels our Aero range, we might as well name them after what they are. For triathletes and time trial stars on a budget we recommend our Aero 86 wheels.
As you may not be surprised to learn our Aero 86 wheels are a Toray T700/T800 carbon fiber wheel with an 86mm depth. We mixed the T700 and T800 fibers to bring you a wheel that is stiff, light, and ridiculously aero.
The Bling Triathlon and Time Trial Wheelset
We took our awesome FL 86 wheelset and gave it a little bit extra. You can grab the same rim, but instead of our own brand hubs, you can get it with your choice of DT Swiss hubs. Our DT AERO 86 just took an already fast wheelset and made it even faster.
Our FL wheels are all fast and light, do you get where the name comes from now? The 86 mm Toray T700 carbon fiber rim is the fastest in the series and will have you flying to victory. You can also pick whether you want DT Swiss' affordable 350S hubs or their lighter 240S hubs.
Disc Wheelsets
Disc brakes have arrived in the road bike world, and they are here to stay. Despite what you may think they are easy to set up, offer better braking, and are getting lighter and more sophisticated as time goes on.
Discs are especially good on the more allroad style of riding that is very popular and gaining traction all the time. There is a reason why mountain bikes have gone for disc brakes and not turned back.
Cyclocross Affordable Wheels
Going aero is always a good start if you want to upgrade your wheels, as they will always instantly make you faster. After all, who could blame you for wanting better wheels? Our FL50 Disc wheels are a great choice for those wanting an aero boost for their cyclocross rig.
Our FL50 Disc wheelsets use our tried and trusted wide Toray T700 carbon fiber rim. The FL50 is also tubeless ready, and that is something that you will be looking for in a good set of cyclocross wheels. Allowing you to run low pressures so you easily navigate that rough terrain.
The Bling Cyclocross Wheelset
For our bling option we bring you our DT Aero 35 disc wheelset. Our Aero wheelset builds on our FL series wheelset and offers a T700/T800 carbon fiber mix to make our stiff and strong wheels even lighter. Words that are probably music to your ears.
As with all our DT Swiss hubbed wheels, you can pick from either the lighter 240S or, the more affordable 350S. Either way, you will benefit from DT Swiss' legendary instant drive connection. You will also be benefiting from our wide, light, and stiff rim as well.
Gravel Affordable Wheels
Gravel riding can take you into very remote parts of the world. That is why our BD35 Disc are with reliable hubs as well as our super strong carbon rims. We designed these wheels to be super strong, with a wider rim than the rest of the FL family, so that you can run wider tires on your gravel bike.
Constructed using Toray T700 carbon our wide and tubeless ready FL35 wheels are just what you want when off into remote places. They will be more than capable of handling anything that you can throw at them and come back looking for more.
Bling Gravel Wheels
If you really want to pimp your gravel bike up then our DT FL35 disc wheels are an ideal choice for. Featuring your choice of DT Swiss hubs you can guarantee reliability and quality with these wheels. Perfect if you are going to race the Dirty Kanza or even if you are going for a Trans-Continental style race.
With our DT FL35 disc wheels, you can pick from DT Swiss' light and classic 240S hubs or their more affordable 350S variant. You will also get our Toray T700 carbon fiber rim, with its wider profile than our other rims it is the perfect accompaniment to a set of wide gravel tires.
Affordable Road Disc Wheels
You have gotten a disc brake road bike and you don't if you are a climber or a sprinter yet. That is where our FL40/55 Disc wheelset comes in. It is the perfect wheelset to allow you to do either. The 55mm deep rear wheel gives you an aero boost, and the 40mm front wheel helps to keep the weight down when the road gets vertical.
Both rims in this wheelset are constructed from Toray T700 carbon fiber. Both also have our wide and blunt tubeless ready aero profile. A perfect combination if you fancy trying wider tires with lower pressure to see how you get on as you cruise the mean roads on your training loops.
Bling Road Disc Wheels
Our DT Aero 50 Disc might be the perfect all around set of road bike wheels. They will give you extra speed on the flats and down hills, where you can brake late thanks to them being disc brake wheels. They are also our new rim design for 2019 which has brought the weight down by around 100g per wheelset compared to our FL series wheels.
We haven't even told you that out Toray T700/T800 carbon fiber rims are laced to your choice of DT Swiss hubs, like all the wheels here they use Sapim CX-Ray spokes for the lacing. You can pick from either the affordable 350S hubs or the lighter 240S hubs. These could be the wheels that score you your first race win.
Rim Brake Wheels
Do not worry we have not forgotten about good old fashioned rim brakes. We know not everyone is ready yet to make the switch to disc brakes and if you have a great frame why would you rush to condemn it?
That is why we still push rim brake technology. In our new Aero road bike series, we have been working on their brake track. We have taken the already excellent heat tolerance of 240° of our FL series and taken it to 300° for our Aero range. We will keep pushing our wheels forward regardless of industry trends.
Affordable Rim Brake Wheels
Our affordable road wheelset for all around riding is our FL50 wheelset. Our FL series of road wheels have been a great seller for is, and the simple reason is that they are great wheels at a highly affordable price point. They will make any road bike feel like a thoroughbred stallion.
Feb 18, 2019

Category:

Wheels
Comments: 0