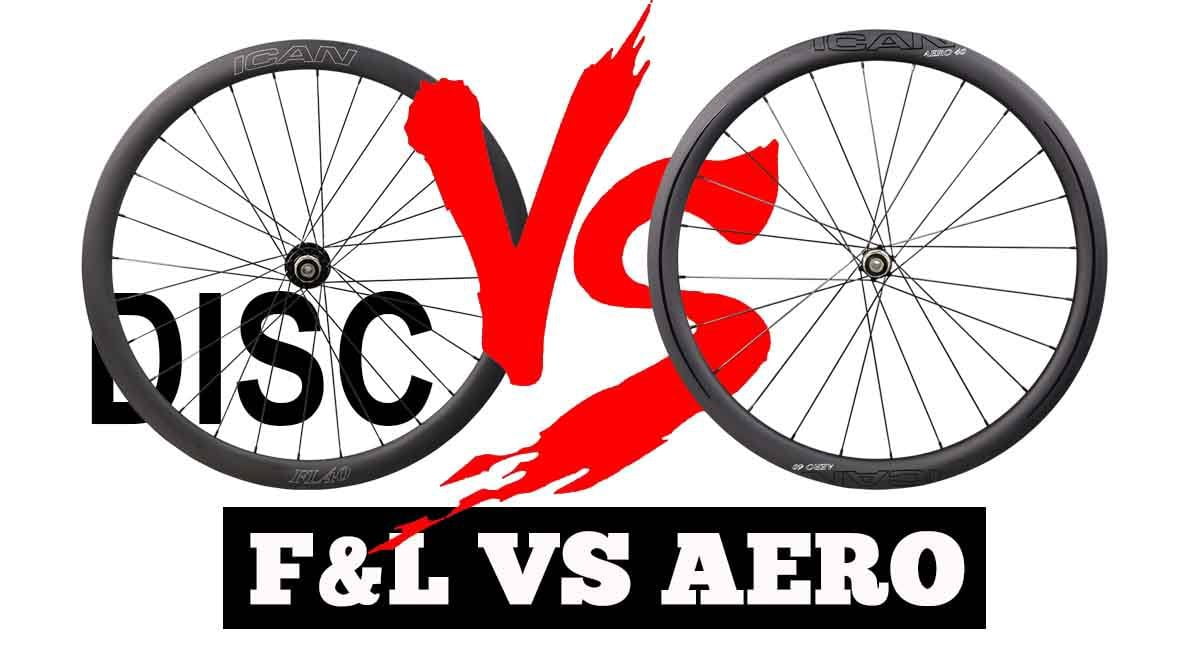 2018 was an excellent year for our FL disk brake range of wheels, and 2019 looks like being an excellent year for our Aero disc brake range of wheels. Our new carbon fiber Aero disc brake wheel range builds on the success of our FL series. To paraphrase a popular saying our Aero range stands on the shoulders of giants.
To understand why 2019 is going to be all about our Aero wheelsets you need to know why our FL range was so popular and well loved. Knowing our FL range of wheels will really allow you to understand the refined qualities of our Aero range.
Fast and Light Carbon Fiber Wheels
The best place to start with our FL wheel is their name. FL stands for Fast and Light. We could have spent a while coming up with a cool name. Then designed cool stickers to get your attention but we didn't, and the reason we didn't is simple.
You would have paid a lot more for our wheels if we had done that and more importantly, these wheels are so good they sell themselves. We don't need a fancy marketing department featuring people wearing this seasons must haves and Facetiming each other. We would rather have engineers designing product, missing out all the hype, and just sell you the best value carbon fiber wheels that you can find out there in the whole world. We don't want to waste money on marketing.
That may sound like a big boast but when you see how feature packed our FL wheels are you'll understand why we made that boast. To start with we construct our FL wheels using the finest Toray T700 carbon fiber. We have not used some generic carbon fiber and then given it a name you can't understand to confuse you into thinking it is better than it is.
Toray Carbon Fiber Construction
We have used Toray carbon fiber, the world's largest producer of high-quality carbon fiber. We have even told you the grade we use. You can go online and find out everything you want to about T700. It would be an excellent cure for insomnia if you go right into the tech behind T700 carbon fiber but let us tell you one thing about T700, it is a fantastic material for building wheels.
The T700 carbon fiber cloth allows us to build in strength where a wheel rim needs it. It will enable us to build in stiffness. It does all of this while still being incredibly light. Our FL40 disc wheelset comes in weighing only 1555g, that is pretty light for an aero disc brake wheelset.
As we said, we have built-in strength to this lightweight wheelset. We believe that we have constructed a strong and reliable wheelset and that is why we offer you a two-year warranty with all FL series wheels. Our warranty is double the length of many other wheel manufacturers, and this is because we have tested our product and worked hard to make it as reliable as you would want.
We also know that you need your wheels to be stiff. A wheel that isn't stiff will flex and can rub against your frame or brake pads when you put your power down. That is an issue we don't want you to have. How could we call our wheels "Fast" if they slowed you down whenever you accelerated? There is no way we could do that, so we need them to be stiff and hold their true to propel you along the road.
Tubeless Disc Wheels
The problems with stiff wheelsets though is that they are sometimes unfavorably called uncomfortable. We decided we could do something to change that. We designed our carbon rim so that it would be tubeless compatible. Tubeless is much more than just a current buzzword in the cycle industry.
It allows you to lower the pressure in your tires. Lower pressures used to mean you would get punctures or pinch flats but if you go tubeless, those are nightmares of the past. When you lower your tire pressures, your tire will deform to the road. It will help cushion you from the effects of road chatter. It might seem like a small thing, but this will help you stay in the saddle longer, more time in the saddle should make you a better rider.
The lower pressure and wider tires also work great with disc brakes. They allow your brakes to have a better bite. You have a better contact patch with the ground when running wider tires at a lower pressure, this works with the brakes to make sure you are not overpowering a skinny tire. So not only are these wheels fast at acceleration but they are also fast at slowing you down.
Wider Carbon Rim Technology
As we were going tubeless, it also made sense to widen our carbon FL rims. By making our wheel rims wider, we are allowing you to run wider tires. Wider tires around 25 or 26mm will work well with our wheel rim to guide the air around your wheels. This is what makes our FL wheels superbly aero.
The wider shape fits in with our blunted profile wheel rim. The wider shape and the blunt profile work together to help stop air becoming turbulent between your wheel and fork or frame, smoothing the way for you to blaze your trail to glory. We all used to think skinny sharp wheels made us faster, but it turns out we were wrong.
The shape of our rims will also help to make you feel like your bike is super stable. When you first put a set of FL series wheels on your bike, you feel like you are going round corners on rails. The stable feeling of our wheels will allow you to go faster as you will feel in total control of your bike.
Novatec Bike Hubs
As you can see our FL series is a winner in many ways, and we have not finished yet. We fit each FL wheel with a set of Novatec disc brake sealed bearing hubs. We used Novatec as they are great at building precision quality hubs at a very affordable price. They use a traditional 6-bolt rotor pattern, but they do hubs in all axle variations to fit any type of disc brake road, gravel, or cyclocross bike. You've probably even seen them on branded wheels, just with a different sticker.
To join the Novatec disc brake hubs to our carbon fiber wheel rims, we have used Sapim CX-Ray spokes. We spent ages testing and checking out various spokes. We didn't want lightweight spokes that flexed or stiff spokes that were heavy. In the end, we found that the legendary Sapim CX-Ray spokes enabled us to build you a lightweight and stiff set of wheels.
UCI Wheel Certification
We then sent our FL series wheels to the UCI. The UCI tested and checked them and awarded them with UCI certification. UCI certification means that our FL wheels can be raced at the highest levels of cycling. We feel that we are offering you UCI certified wheels at a price no one else can match.
After reading through all the benefits and qualities of our FL series wheels, you can see why they were so popular during 2018. They almost set the bar too high to be beaten. We tasked our engineers with beating them though.
The New Aero Wheelset
After they stopped crying about how hard this task was going to be, they got on with beating the FL series, and the new for 2019 Aero disc series was born. The headline news with the carbon fiber Aero40 disc wheelset is that we have managed to save 200g per wheelset. The FL40 comes in at 1555g, and our new Aero comes in 1355g.
That is a significant saving, just think how fast you'll be able to sprint up hills now. How then did our engineers save this weight? The first place they looked to save weight was with the FL carbon fiber rim. We knew that we had to keep the same desirable strength, stiffness, aero efficiency, and tubeless compatibility but we would like the wheel rim a little lighter.
New Carbon Fiber Layup
We worked through various models and testing with a new layups of Toray T700. We love the stuff but in order to be lighter though we would lose a bit of stiffness or a bit of strength. We then had to look at other carbon fiber cloth material.
We went back to Toray and started to go through their range. Trying out different ideas, seeing what worked, seeing what didn't work and eventually, we came upon the idea of mixing Toray's T700 and T800 carbon fibers together. T800 is the carbon fiber you'll find in airplanes, so we felt it was only fitting to use it to have you flying along the road.
By utilizing the two different types of carbon fiber cloth, our engineers were able to come up with a new layup that still featured all the great FL qualities but had lost a bit of weight. The new wheel rim was still just as stiff, just as strong, just as aero, and would still covered by our two-year warranty it was now just lighter. Who doesn't want a lighter road bike?
New Novatec Bicycle Hubs
Our engineers weren't finished there though. Our FL series wheels used 28 spoke sealed bearing Novatec hubs front and rear. Our engineers felt that they could optimize our new Aero rim to run 24 spokes front and rear, nicely Novatec does a 24 spoke disc brake hub. The 24 spoke hubs are available in either 6 bolt or Centrelock rotor pattern.
By losing a total of eight spokes, we had been able to reduce the wheels weight further but thanks to our new mix of Toray T700 and T800 we were not losing any of the FL qualities in our Aero series. Our engineers also started to feel it may be beneficial to try straight pull spokes over J-bend spokes for our new wheelset.
Straight-pull Spokes 
Don't worry we are still using the legendary Sapim CX-Ray spokes just in straight-pull rather than J-bend style. Why the change then I hear you ask? J-bend spokes are called J-bend spokes as they look like a "J". The bend at the bottom can sometimes be regarded as a weak point if your spoke is going to snap it is going to snap there.
The lack of the 90° bend at the bottom of a spoke means that your new Aero disc wheelset is then more durable. We all want lightweight, durable disc wheels. Thankfully we have added another similarity to the FL series here. We have kept our new Aero disc series highly affordable.
Our new Aero disc wheelset does though cost a little bit more than the FL series. That should not put you off though as to get a similar quality branded wheel would cost you around 3x as much as we charge for our wheels. Trust us our carbon fiber Aero disc wheels are going to be huge this year.
If you have read this far and made it through all the content, well done. If you have scrolled through then simply check the below table for a brief rundown on the difference between the FL disc and the new lighter Aero disc wheelsets.
 
Aero disc
F&L disc
Materials
 Toray T700 & T800
Toray T700
Hub
Novatec D411SB/D412SB
Straight Pull Hub
Novatec D791SB/D792SB 
J Bend Hub
Spokes
Sapim CX-Ray
24/24 Holes
Sapim CX-Ray
28/28 Holes
As you can then see the changes all appear very simple, but they have made a significant weight difference for disc wheels. Our Aero disc series is lighter than our FL series which is lighter than many big brands carbon fiber disc brake wheels. Wheels that they are charging you a lot more money for.
Make 2019 the year you treat your bike to a nice set of lightweight disc wheels it deserves them.
Jan 19, 2019

Category:

Wheels
Comments: 0