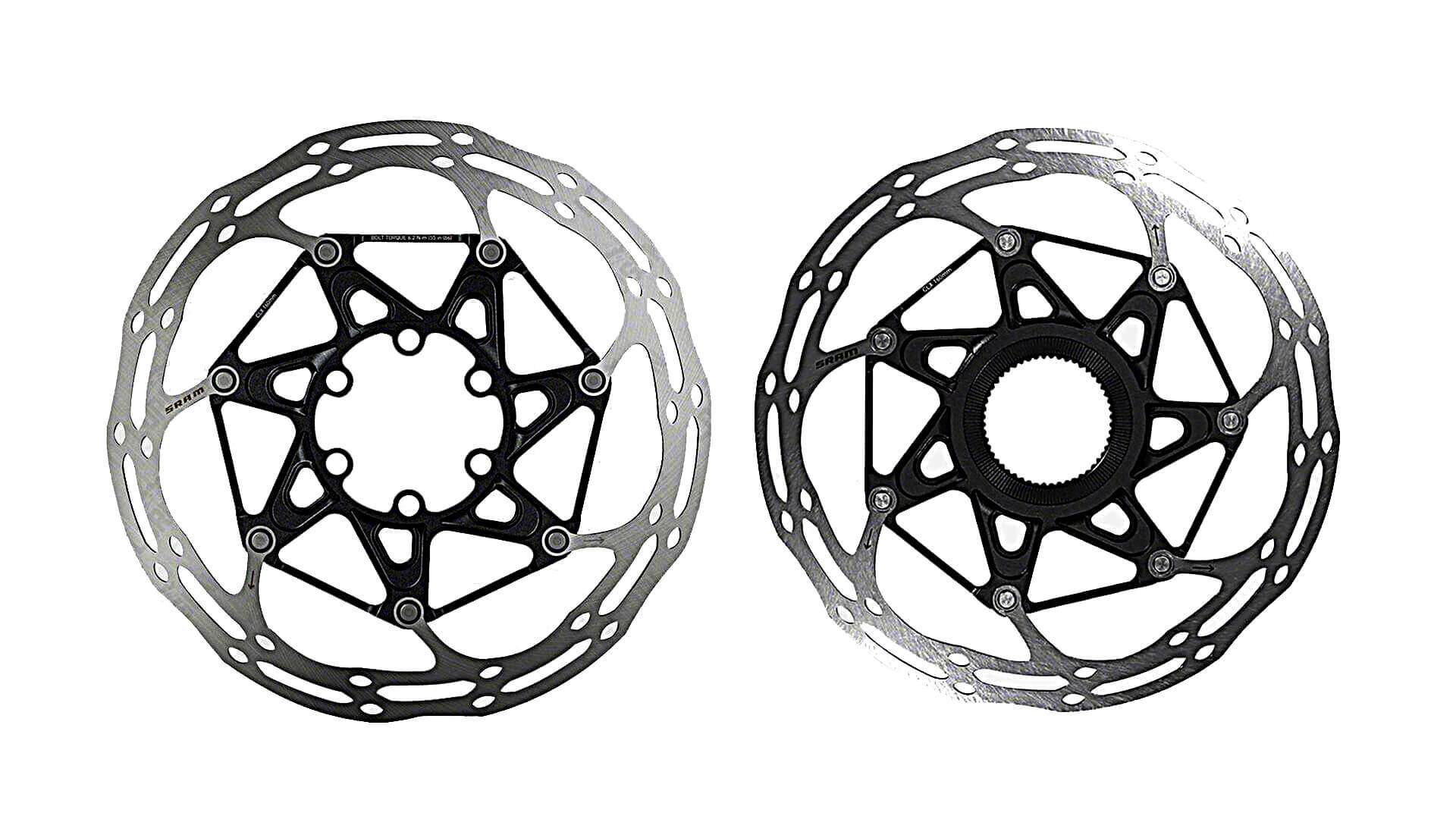 If you are thinking about new bike wheel, hubs, or disc brakes you may have come across the terms 6 bolt or Centerlock. These terms refer to way in which your disc brake rotors are attached to your bike's hubs. Which is better and which should I fit to my bike is a question many new cyclists are asking themselves.
There is one important thing to first note with Centrelock or 6 bolt rotors. Both Centrelock and 6 bolt hubs and rotors will work with your disc brakes. It does not matter what the make or manufacturer is of your disc brakes. They will work with either rotor.
The reason for this is that 6 bolt or Centrelock names refer to how you attach your rotor to your hub. As long as once you've attached your rotor to your hub and it is centered correctly, you'll see that your brakes don't care and will grab it and slow you down regardless.
What Are 6 Bolt Disc Rotors
6 bolt rotors go back to the dawn of disc brakes on mountain bikes. In the time that has passed they have gone on to being the industry preferred option for mounting rotors to your hub. 6 bolt rotors use 6 Torx head bolts to attach them to your hub.
Fixing 6 bolt rotors to your hub can be a fun process. They are very easy to strip. Always use a torque wrench when you're fitting them and take care. If you overtighten them and don't strip anything you may find that they fail when out riding.
You also have to follow a star style pattern as you tighten the bolts. If you do not follow this pattern, you'll find that you have very likely fitted your rotor off center. You'll end up then with a ride full of skiffing and annoying noises unless you took your Torx key with you.
You'll also want to make sure that you regularly check the torque on your bolts. As you ride, you can start to shake and loosen the bolts. If one bolt stays tight and the one opposite it loosens. Your rotor will come off center and begin to rub against your disc pads.
It is not all doom and gloom though. 6 bolt rotors will normally be lighter than Centerlock rotors, and you should find them a lot easier if you need a new one. You should also always be able to see the size and not just the style that you need.
Pros and cons of 6 bolt disc rotors
| | |
| --- | --- |
| Pros | Cons |
| Multiple rotor options | Easily stripped when fitting |
| Cheaper than Centerlock | Can fail when riding |
| Rotors are easily available | You can accidentally fit them off center |
|   | Easier to warp |
What are Centerlock Disc Rotors
Centerlock rotors are the newest rotors on the market. They were brought to market by Shimano, and instead of using 6 small Torx key bolts to fit them to your hub, they use a new tool. The tool you use is the Shimano TL-LR10, you can also use it to tighten your cassette.
One of the downsides that everyone mentions about Centerlock rotors is that they are a little heavier than 6 bolt rotors. The reason for this is that Centerlock rotors come in two parts. You'll find an outer steel part that does the braking is mated to an aluminum part that connects to your hub.
The inner aluminum piece has a row of little splines at its center. These splines line up with other splines on your hubs body and this how they link up. It is a similar idea to how your cassette and freehub line up. This fitting system makes Centrelock easier to fit and set up compared to 6 bolt rotors.
The good news is that this two-piece system makes your disc rotors a lot harder, almost impossible, to bend. Great news if you regularly bend discs. You'll find the aluminum does a great job to dissipate heat and this helps to keep everything nice and true.
The best thing about Centerlock rotors though is that once fitted they will be centered and will stay centered. You'll never have skiffing issues again. As well as being easier to center they are also easier to remove. Using the correct tool, it just takes a few seconds to tighten or loosen your Centerlock rotors.
Pros and cons of Centerlock disc rotors
| | |
| --- | --- |
| Pros | Cons |
| Easy to centre | Less hub choice |
| Rotors are harder to bend | Heavier rotor |
| Easier to remove | Needs a special Centrelock tool |
When should I choose Centerlock rotors?
One of the benefits of Centerlock that has not been discussed already is that Shimano make Ice Tech Freeza rotors. These rotors are exactly what you need on hot days with a lot of descending.
Available in both road and mountain bike formats the Ice Tech Freeza Centerlock rotors can bring the temperature of your rotors down by as much as 50°. If you combine it with their Ice Tech disc pads, you can see temperatures drop from 400° to 300° on your rotors.
The drop in temperature will provide you with consistent braking power. You'll never again have to feel that loss that comes from sustained braking in the most technical of downhills. It is great to know that when you press your brakes, you'll have consistent power.
So, if you love riding technical downhill, I'd try Centerlock and see how your braking performs.
Why should I pick 6 bolt rotors?
6 bolts rotors are great if you already have hubs with a 6 bolt pattern and don't want to change wheels. If you are brand loyal to SRAM, you'll very likely not want to switch to Centerlock as Shimano patented Centerlock so you'll never see an SRAM Centerlock rotor.
If you're a weight weenie, you'll also prefer 6 bolt. The lightest rotors you can buy are 6 bolt, and they more than makeup for the weight of the rotor bolts. So if you're going for a hill climb TT or KOM, you may prefer the marginal gains of having lighter brakes.
Mar 26, 2019

Category:

Wheels
Comments: 0